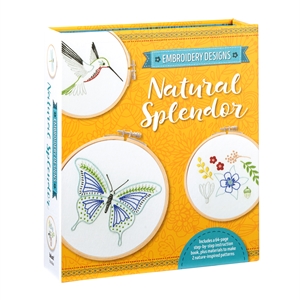 I wanted to share with you an upcoming embroidery kit from becker&mayer! books: Embroidery Designs: Natural Splendor, publishing September 25.
Add sophisticated flair to your needlework with the nature patterns of Embroidery Designs: Natural Splendor
This kit includes 12 step-by-step designs, the how-to basics of embroidery, and all the materials you need to create 2 projects.
This isn't your grandma's embroidery! Embroidery Designs: Natural Splendor is a modern take on a classic craft—no stuffy, old-fashioned flowers here. This 64-page, fully illustrated guide book has everything you need to start embellishing anything and everything with modern, chic embroidery.
Among the designs you can add to your wardrobe and accessories with this book are a hummingbird, dragonfly, ladybug, and bumblebee.
Even if you're completely new to needlework and embroidery, Embroidery Designs: Natural Splendor is a great starting point, because it opens with a how-to on basic embroidery stitches. From there, the step-by-step projects will show you how to add designs from nature to purses, pillows, skirts, backpacks, and just about anything you can get a needle through!
Kelly Fletcher is a contemporary needlework designer based in South Africa. She learned how to work a needle at a young age, with her mother, grandmother and great-grandmother, which were always knitting, crocheting, stitching and sewing. She has contributed a chapter of embroidered motifs to the book Stitch! The Complete Guide to Handsewing & Embellishing and designed a kit called Sew Cute Embroidery Kit. To see more of her designs and projects, visit www.kellyfletcher.co.za.
EMBROIDERY DESIGNS: NATURAL SPLENDOR

By Kelly Fletcher
On-Sale Date: September 25, 2018
$21.99 US · $28.99 CAN · 64 pages · Book Plus
ISBN: 9780760362105